ASBESTOS E-BOOK
ABOUT THE AUTHOR
WHAT IS AN E-BOOK

identifying and removal methods of asbestos materials used in buidings.
asbestos, a practical guide
A BuilderBill E-Book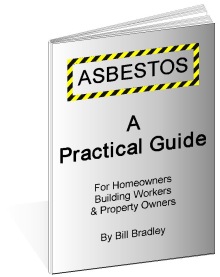 Most asbestos used in the home is by and large fairly safe, but various factors can cause it to be dangerous to the health. You owe it to yourself to learn the true dangers for you and your family.
With the aid of many clear photographs learn how to identify the possible asbestos containing materials that are common in the home.
If you are a building worker, or a general contractor who want's to undergo training for a removal license, then this book will tell you the details of what you are expected to know and the methods of removal that you will have to implement.
Owners of older rental properties! You should get all the facts about this noxious substance. You must make certain of your legal responsibilities.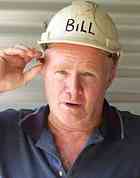 Hi, my name is Bill Bradley. My first job in Australia back in 1964 was as a journeyman carpenter cladding timber frame houses in NSW. We called it cottage work in those days and we clad them inside and out, walls and ceilings with what we called "Fibro". That is Fibrous Asbestos Cement sheets or siding.
As a subcontractor and for over thirty years as a main (general) contractor I have fixed and supervised the fixing of various asbestos products to homes and other buildings.
In 1995 I was issued an asbestos removal license (43133) by the Northern Territory Work Health Authority, and did many asbestos removal jobs, complying with Australian Work Health (OH&S) Regulations and the NOHSC National Code Of Practice For The Safe Removal Of Asbestos.
This book is a condensation of my 39 years of practical experience working with asbestos. Fixing it and removing it.

Who can benefit from reading this guide?
Home-owners. If you have a home that you know or suspect contains asbestos then you owe it to yourself, your family and neighbours to know the facts. Learn how to safely manage asbestos in your home.
Persons thinking of buying a home. If you live in an area that used asbestos materials in houses and you are contemplating buying an older home then this book could save a lot of heartache. Give yourself the knowledge to make sound decisions on when to buy and when to pass.
Building trades and contractors working on buildings that contain asbestos. Read how to identify the various products used and if necessary gain an understanding of the basic principals of asbestos removal. Learn what will be expected if you apply for a removal license.
Owners and managers of leased buildings that may contain asbestos. Many owners do not even know that they have legal responsibilities regarding the management of asbestos in their properties. Are you one of those? Be safe and get informed.

If you want a balanced view of this highly emotive subject then you will never regret the time spent reading this book.
THIS IS MY GUARANTEE!
If you are not completely satisfied with the book let me know and I will cheerfully refund your money, You have my word on it!.
Buy it here for $17.50 through PayPal
Table of contents.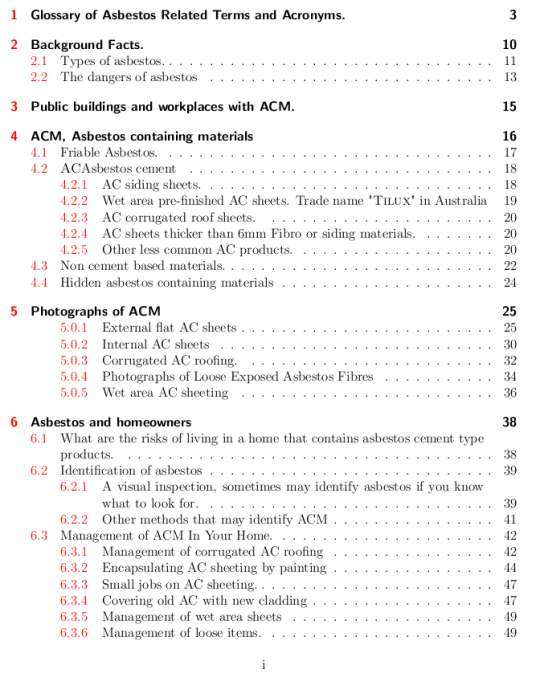 I wrote this book in answer to many questions like the ones below from people all over the world.
"I have just purchased a beautiful home in Auckland and I have found it has a roof made from Hardies roofing shingles. The property was built in 1976.
Despite being assured by the vendors that the roofing material was not asbestos, I have just read the product information in a brochure in a file left in the house, and am extremely alarmed to read that the roof is apparently asbestos....
I have also been worried to find descriptions of Tilux sheeting and would appreciate your opinion as to weather this is what I have lining my toilets and washing machine area. My sheets have a shiny appearance and a sort of marble pattern, and where a hole has been cut in the sheet, I can see the waterproof covering is a very thin veneer and attached to what my partner is convinced is regular hardboard. It is dark brown in colour and fairly thin. The sheets are connected by plastic edgings not aluminium. Is it common for the Tilux backing to be dark brown?
"
Blanche.....Auckland, New Zealand.
"Hi Bill, I have another question for you. My wife and I decided to keep the asbestos siding on our house but we want to paint it. What is the best and safest way to clean it before we paint?
Thanks. "
Robert K.. Horesham US
"I JUST RENTED AN OLD HOUSE, THAT ALL THE FURNACE DUCT WORK IS WRAPPED WITH A WHITE, CLOTHY-PAPER LIKE TAPE. IT LOOKS TO ME LIKE ASBESTOS TAPE. IT IS IN VERY BAD SHAPE, COMING OFF IN STRIPS, HANGING OFF OF THE DUCTS. I SAID SOMETHING TO THE LANDLORD, HE SAID HE WOULD COVER IT WITH DUCT TAPE. THATS NOT GOOD IS IT? ESPECIALLY WHEN ITS ALL DRIED, COMING OFF. I'M SURE IF ITS BEEN AIRBORNE, IT HAS BEEN FOR A LONG TIME. BUT SHOULD IT BE REMOVED? NEW DUCT WORK INSTALLED? SHOULD THE LANDLORD TAKE CARE OF THIS? IS THERE ANYTHING I CAN DO IF HE DOES NOT?
THANK YOU "
SHANE R JEROMESVILLE, OH US
"The house beside me is being renovated (nearly completed now). It is a very old house made of fibro sheets. When being removed these sheets were smashed into, not carefully removed by men not wearing protective gear. I watched in horror as broken pieces fell onto the ground. I have spent weeks with exposed pieces poking through garbage bags, as the means of wrapping them up. I watched as workmen picked up broken pieces from the ground and then tossed them onto another heap, causing them to break further.....
I am scared that this also will be a "cheap" job not managed professionally. When the fibro sheets were being smashed into....
What can I do and has my and my family's health been compromised.
thank you "
Lynne B. Brisbane Australia..
Buy it here for $17.50 through PayPal

ASBESTOS E-BOOK
ABOUT THE AUTHOR
WHAT IS AN E-BOOK